When using products such as hospital disinfectants, we must take a series of specific requirements into account to prevent possible skin problems in patients who are more sensitive to this type of product or cause any disorder derived from their inhalation, among other inconveniences.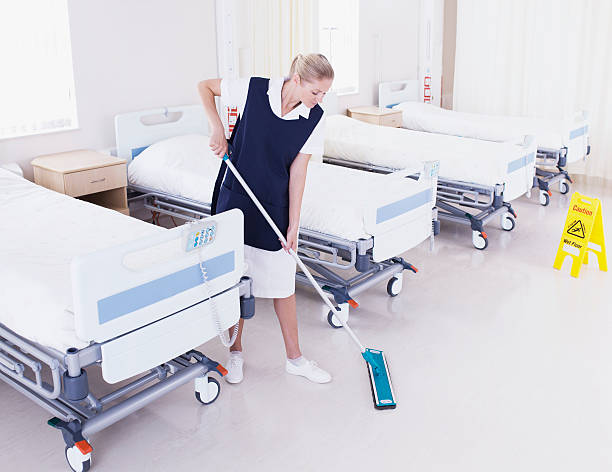 As a general rule, it is convenient that the antiseptic product used be the same or similar to the one used in the different areas of the hospital, except for the areas with the highest risk of germs (quarantine areas due to biological risk).
 What you should know about hospital disinfectants?
Before carrying out the use of hospital antiseptics and disinfectants, it is convenient to consider the following highly relevant information:
The chosen hospital disinfectant must not harm the hands of the staff during its use, so the use of specific gloves will always be necessary.

Once the disinfectants and antiseptics reach the different areas, we must divide them into small opaque bottles (since they usually come in jug format) and replaced them daily, always washing and draining the bottle beforehand, before refilling it.

In cases such as those of antiseptic alcohol, it can be put in white glass jars, yes, always hermetically sealed.

It is vitally important to keep hospital disinfectants covered at all times, since, for example, some such as iodinated alcohol alter their concentration in the evaporation process.
 Types and use of hospital disinfectants
Povidone-Iodine
It is the substance resulting from adding a solubilizing agent to iodine, such as povidone or PVP, maintaining the germicidal efficacy of iodine, being one of the best hospital disinfectants, due to its low irritation and toxicity.
 In addition to not irritating, it stains neither, being the perfect solution for preventive cleaning applications, such as sanitizing pre-surgical bathrooms or wound healing.
Besides bacteria, it can eliminate viruses, yeasts and fungi. For this, its use must be undiluted.
You can find this type of product both in the soapy solution and as a topical one.
Chlorhexidine gluconate
It is a hospital disinfectant, used as a powerful bactericide for generic use in low-risk zones and areas.
Although it can eliminate fungi and viruses, it is not very effective in eliminating viruses such as tuberculosis.
We recommend mainly its use for:
Bathroom of patients who are not in bed, since this solution leaves a stain.

Restrooms for visitors and other common areas.

We should not use it for disinfection, since materials such as cotton render it inactive.
You can find it both in soapy form and, to a lesser extent, alcoholic.
Hospital disinfectants. hexachlorophene
It is an effective bacteriostatic agent against germs, especially staphylococci. Although it does not change the skin flora with its application, its effects are cumulative. That is why its use is recommended in preoperative showers. We can use it in non-critical materials and professional cleaning of the hospital environment.
Hydrogen Peroxide or Hydrogen Peroxide
One of the most common hospital disinfectants in any medicine cabinet and frequently used for the sterilization of medical supplies and wounds.
It has a very weak germicidal effect and is easily degraded into water and molecular oxygen. Its action is more than enough to release the oxygenated bubbles that emanate from the bags of bacteria, eliminating them completely.
As you can see, it is an ideal product to disinfect surgical material for 30 minutes.
We should keep away it from light and is corrosive to metals such as copper, aluminum, or zinc.
 Alcohol
In hospitals, ethyl alcohol or ethanol is the most common disinfectant.
We recommend its use for:
Antiseptic use of the skin.

Disinfection of rectal and axillary thermometers.

Sanitation of fiber-optic endoscopes.

Disinfection of other types of instruments and sanitary material.
It is very effective against pathogenic bacteria, but unpredictable against viruses and fungi, as they are increasingly immune to it.
Its main disadvantages are that it dries the skin, can cause burning when applied to open wounds, and causes vasodilation.
They also used it as a substitute for hand soaps to disinfect, reducing microbes by 99.7%.
Iodinated alcohol
To get this hospital disinfectant, a combination of alcohol and iodine is necessary.
Iodinated alcohol is a powerful antiseptic against bacteria (including those that cause tuberculosis). We widely used it as an antiseptic for preparing the operative area of the skin.
We must keep it at all times, inside opaque and covered containers, to avoid evaporation.
Quaternary Ammoniums
They are good cleaning agents such as hospital disinfectants, although they have certain limitations, such as
Its application cannot be done with cotton either, since it diminishes its function.

It cannot eliminate spores or viruses, such as hepatitis B.

They should use it with care, as we know some solutions to support the growth of Pseudomonas.
That is why it is a product used for professional general cleaning of spaces, and not for specific cleaning in operating rooms, rooms, and other places in the hospital.
Formaldehyde
This disinfectant product can inactivate microorganisms through alkalinization (reduction of acid in a solution).
 Its use is perfect for eliminating batteries, fungi, and spores, so it is a hospital disinfectant with a high level of disinfection and sterilization.
Although toxic and irritating effects, which is why it is recommended to handle them with protectors, such as masks, it is ideal for low-risk areas.
We do not recommend its use in inpatient rooms or operating rooms, because of its carcinogenic effect.
Compounds with Mercury
Although it is an antiseptic that rapidly inactivates proteins, its use must be high in order to have a bactericidal effect.
Besides its low level of disinfection, it is corrosive to certain types of metals and can be very toxic to humans, which is why its use is increasingly limited in this type of center.
Glutaraldehyde
Its use diluted in water is quite effective in cleaning issues (the water should not be at a temperature higher than 45 degrees), since it is a high-level hospital disinfectant. For its use, the use of glasses and gloves is recommended.
Now, you know what the main hospital disinfectants are and what we use them for. If you are going to entrust this disinfectant cleaning to a professional team, do not hesitate and contact us. We are experts in all kinds of cleaning solutions in clinics and hospitals and we have the right staff and machinery to provide a service with the maximum guarantees of quality and safety. The most common of hospital disinfectants is ethyl alcohol or ethanol.